Subscribe to the Renewable Energy Review
This is the fifth installment of the renewable energy review.
What does dispatchable mean?
Dispatchable energy sources are those sources that can be ramped up or shut down in a relatively short amount of time. This could refer to time intervals of a few seconds up to a couple of hours.
Depending on the response speed of a form of dispatchable power, it may fulfill one of many distinct roles in the power grid. For instance, hydroelectricity generally has very quick response times while coal and nuclear are relatively slow. While hydroelectricity might be used to match peaks in demand on a second to minute scale, the flexibility of some coal stations might be used to help follow the general trend of power usage during the day.
Dispatchable power sources are what we turn to when we need guaranteed power. There are many different distinct uses for this guaranteed power, which we go into later in this article.
This is intended to be an overview of the concept of dispatchable power (which includes peak-matching and load-following power). We will also be focusing on the problem of dispatchable power that is renewable in nature. Lastly, we will consider some related technologies such as energy storage and dispatchable loads.
Why do we need dispatchable sources?
Load match
Load matching refers to the fact that power usage changes during the day. Typically far less electricity is demanded at night than during the day. Load-matching power plants use their flexibility to adapt their power output over the course of hours to match the general shape of the demand.
Load-matching power plants however do not meet the little ups and downs in power usage. That role goes to the peak-matching power plants that we look at next.
Peak matching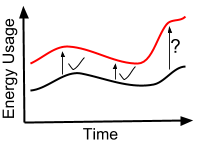 Peak matching power plants (aka peaking power plants) are employed to match the highest demand during the day. Demand typically peaks for power grids at a relatively predictable time, depending on culture, weather and geographic location.
For instance, in many affluent places that have hot weather, 4-5pm is typically very hot, and it is also the time that people tend to go home from work and start using their electric devices there. This hour between 4-5pm is a typical peak demand hour, where electricity demand hits its maximum for the entire day.
Some power systems that are not strictly dispatchable can help to meet peak demand to some extent. For instance, solar photovoltaics hit their maximal power output when the day is clear and sunny, with the sun still high in the sky. This can coincide rather closely with the power demand due to air conditioning due to the heat. It should be noted however that AC demand continues to be high even into the late afternoon, when solar photovoltaic power has begun to wane.
Cover lead-in times
First of all, a lead-in time for a power plant is the amount of time it needs to ramp up to producing power. For example, a coal power plant might take several hours to reach maximum power output, but it can produce intermediate amounts of power in less time, such as a few hundred megawatts in half an hour perhaps.
Dispatchable power generation that can deploy quickly, on a scale of seconds to minutes, is extensively used to cover the lead-in times for power systems that react more slowly. This is extremely useful for ensuring that there are no gaps in supply due to quickly increasing demand.
Frequency regulation
When a power grid raises or lowers the amount of electricity that they are delivering in total, there tends to be disturbances created in the power signal. These disturbances are generally due to a slight change in frequency because of either a slight oversupply or undersupply of electricity. Large frequency disturbances lead to a reduction in power quality.
These disturbances in frequency must be dealt with rather quickly. Responding to these events even in as short of a time as several seconds can mean that the disturbance is already gone when the corrective action arrives. This can lead to a tendency to overshoot or undershoot substantially in terms of frequency regulation.
Natural gas units are often used for this task, but often respond rather sluggishly compared with what we would prefer. Studies have been done on using fast responding energy storage techniques such as flywheels to fulfill this role. The results seem promising and compelling. We may see energy storage technologies, including flywheels, implemented more widely in this regard.
Why do we care so much about frequency regulation? Any noticeable deviation from the standard frequency is termed 'dirty power'. People may have personal experience with dirty power, and how it can damage electronics, or drastically reduce electronic lifetimes. Dirty power causes problems for electricity grid equipment and for consumer uses. Extreme cases can include incidents known as 'brownouts'. The cleanliness of power is very valuable.
Cover intermittent sources
Some forms of energy production are intermittent or variable. They do not produce consistent electricity, and are not dispatchable. Essentially we have little to no control over the power production from these units.
Depending on the relative capacity of the intermittent sources on a power grid, there can be some problems. Intermittent sources can provide valuable electricity, but they cannot provide guaranteed electricity. In order to ensure that demand is met, dispatchable sources are often needed to help when the intermittent sources have a period of low production.
For example, on the 23rd of January, 2009, Spain encountered unexpectedly high winds that caused much of their wind production to go into automatic shutdown mode. This is because most wind power systems have a maximum wind speed that they can safely operate at. During the January 23rd incident, Spain had to turn on a lot of dispatchable pumped hydro power as well as coal and gas turbines. They had enough flexibility in their grid to handle even this exceptionally bad circumstance. They had been expecting a lot of wind power that day because of high wind speeds. What they did not expect was winds so fast that many of their wind turbines turned off.
Different deployment speeds
Here are some different forms of power production, with their associated deployment speeds.
Fast (seconds)
Capacitor systems can respond to a discharge signal in milliseconds if they need to. They are the fastest form of dispatchable power than we know of. This is because a capacitor is one of the very few ways to store electricity directly. Most energy storage forms utilize other energy forms such as mechanical, chemical, or thermal. They then convert these energy forms to electricity, typically losing some fraction of the energy in the process. Capacitors on the other hand have almost zero losses since the power stays electrical the whole time.
Flywheel energy storage can be dispatched in seconds. It is one of the fastest-responding sources of power that exist. Similarly, batteries can usually be dispatched in a few seconds.
Some hydroelectric systems can be dispatched in seconds. For instance, Dinorwig power station, a pumped-hydro system in the United Kingdom, is capable of dispatching from a ready state to its full power of 11.8 GW in about 16 seconds.
Medium (minutes)
Slower reservoir hydro systems can respond in a few minutes.1
Natural gas turbines are a very common dispatchable source, and they can generally be ramped up in minutes. We learned that SaskPower uses some gas turbines that stay spinning at relatively high speed but not producing power2 . In this way they burn very minimal fuel but are ready for almost instant deployment in energy production. Techniques such as these can make it so that gas turbines can be dispatchable in under a minute.
Solar thermal power, or concentrated solar power, can utilize systems of efficient thermal energy storage. It is possible to design these systems to be dispatchable on roughly equivalent timeframes to natural gas turbines. Solar thermal power has been getting a lot of interest lately due to this property, as well as the fact that it can be run as baseload generation. For more information, see our article on solar thermal power.
Slow (hours)
On the slower end we have things like most biomass, nuclear, or coal plants, which can take hours to change their energy output significantly. While these systems are typically regarded as baseload generation, they often have some flexibility. Also, many coal and biomass plants can be fired up from cold within a few hours.
Dispatchable renewable energy
Hydro
Here we are discussing reservoir-based hydroelectric facilities. To learn about all of the different sorts of hydro power, see our article: Types of hydroelectric power: How do the dam things work?
Reservoir-hydroelectric capacity can depend on seasonal variations in precipitation and spring run-off, as well as the size of the reservoir. Larger reservoirs essentially mean that there is more flexibility of power generation. In effect, the 'fuel supply' of hydro power is the water in the reservoir.
These properties do not make hydro strictly dispatchable, in that its capacity for producing dispatchable power is constrained to some extent by the natural water supply. The ability to store energy gives it some dispatchable and peak matching abilities. A dammed hydro system may be used more for peak-matching during the dry season, while fulfilling baseload and dispatchable roles at other times of the year.
There is often a minimal amount of water that has to released from a hydro facility to maintain the downstream habitats of the river biota. This means that some small percentage of a hydroelectric plant's power will be baseload, because it is providing water to keep the river in existence.
In general however, reservoir based hydroelectric systems are among the most flexible and affordable power systems in the world. As a result, they have been extensively deployed throughout the world. Most of the easily accessible locations for dammed hydro stations have already been constructed. There is still a lot of potential for development, but newer development is generally in one of three directions:
More remote. Having used up the most easily accessible locations, we are going further afield.
Bigger. There is a trend towards larger and larger hydro facilities. The Three Gorges Dam, Itaipu Dam, Guri Dam, and Tucurui Dam are the four largest electric power facilities in the world according to wikipedia. As the world becomes more industrialized, and our technological reach increases, larger facilities become possible.
Smaller. There is also a separate trend towards 'small', 'micro', and 'pico' hydro plants. These systems have a variety of uses. They have garnered particular interest because of their extremely small environmental impact, and their possibility for off-grid use as well as grid-connected use. I recommend starting here at the wikipedia entry for these power types if you desire more information on this subject.
Biomass and biofuel
A form of power that humans are very familiar with, biomass power relies on the combustion of plant and tree matter to create energy. Biomass plants can fulfill either dispatchable or baseload roles depending on their fuel sources and design.
One key issue is whether biomass is really renewable or not. This is in question because humans are depleting the biomass of the planet, as well as degrading the soils in which biomass grows. We rely increasingly on chemical inputs such as fertilizers. When these fertilizers are drawn from non-renewable sources such as potash mines, we cannot regard the biomass grown as being strictly renewable.
Despite misleading diagrams such as this one by Potash One, our fertilizer use today is unsustainable. Just like with oil, we are depleting our potash resources far faster than the geological processes can replace them.
It is important to keep in mind that biomass power can be fully renewable, but it would require management of land and soil that we do not do today. It is important also to keep in mind that the capability of biomass to meet our future power requirements may be very limited.
Why? Because biomass power relies on the same energy resource that our food does. Our arable land and water systems are already tremendously leveraged for food production. Increasing meat consumption is also significantly increasing the strain on our arable land today. Lastly, in recent years we have seen the rise of the biofuels movement.
In short, biomass production is competing for resources that are already tremendously leveraged. Biomass plants tend to be small, and there are no large-scale implementation plans that we are aware of for biomass in the world.
Biogas or landfill gas
These power sources depend on decomposition of biomass. The breakdown of organic matter creates several flammable gases. These can be captured and used to produce power.
Biogas and landfill gas have similar problems to biomass. The source of their energy is not entirely renewable, since there are non-renewable inputs into the arable land used to grow the organic matter that decays to create biogas and landfill gas.
There are also some definite constraints on the amount of landfill gas that can be created and captured. Waste is not infinite. Landfill gas may allow us to more effectively use our garbage heaps, but they are not a renewable energy solution.
Concentrated solar thermal
As mentioned above, concentrated solar thermal power can be used in conjunction with a heat storage system. This means that, unlike most forms of solar energy, concentrated solar thermal power can provide baseload or dispatchable energy.
This may be a very important innovation for renewable energy in general. Until this development, there have been essentially no renewable dispatchable sources except hydro and biomass.
Biomass has the constraints given above, which limit its power production ability severely. Hydro stations are very site-specific, and much of our hydro capacity has been developed already. Solar thermal has a different set of location-specific constraints. This means that many areas, such as deserts, which have had little power-production capability in the past, as well as low power demand, will start to see increasing development with solar thermal.
Concentrated solar thermal is drawing tremendous interest in the world currently partly because of its ability to be baseload or dispatchable. The other part of the equation is that concentrated solar thermal power is quite cost-competitive. It is expected to very soon reach $0.10 per kilowatt-hour, a price that will begin to seriously compete with currently popular forms of power.
For more information, see our article on the subject of concentrated solar thermal power.
Energy storage
It may seem strange to call an energy storage system 'renewable'. The key point here is that energy storage can be very effective when used in conjunction with renewable energy sources. A number of energy storage systems have properties that make the labels 'clean' or 'green' apply well to them.
Why is energy storage so useful? If you are interested in the details, we wrote a previous issue of the renewable energy review on the subject of why electrical energy storage is useful.
Depending on the implementation, a number of the various energy storage technologies can be regarded as clean or green. We would like to mention pumped-hydro, chemical, and mechanical storage as methods that can be implemented in a green fashion. The machinery and chemicals used for these methods can be designed with eventual recycling in mind.
Batteries are currently only partly recyclable. Until we design batteries that are more fully recyclable, we cannot regard them as a very green solution.
Capacitors have amazing speed, very long lifetimes, and essentially infinite numbers of discharges. However, they are still quite expensive, and like batteries are not easily recyclable.
Compressed-air energy storage (CAES) has been receiving a lot of attention lately as an energy storage technique. In a previous issue of the renewable energy review, we looked at compressed air energy storage in detail. Current implementations seem to require a notable source of on-demand heat, such as natural gas. It is possible to use renewable energy sources for this heat, but it is likely to be constrained to thermal sources like biomass/biogas/landfill gas. Despite this problem, and a number of other specific constraints, CAES shows great potential and merits further investigation.
In short, energy storage can play a key role in a renewable power grid. It can also be constructed in a green fashion, where materials used can be recovered and recycled easily after their useful lifetimes.
Dispatchable load
In a future publication we plan to discuss in more detail the idea of dispatchable loads. A dispatchable load is basically a power user that you can tell to use less power.
Example: a grid operator realizes that the peak usage for a day is going to be substantially higher than expected. They use automated systems to contact heavy power users, telling them to reduce their power usage in a timely manner.
Why would the companies choose to go along with this? Well for one thing, the power utility can make them agree to a dispatchable load contract when they negotiate the initial hookup. Grid management operators often reserve this right in the interests of the grid's stability.
Also, if a company can agree to being a quickly dispatchable load, they can negotiate lower electricity prices. That is, if they can safely power down their equipment in a short time, and allow the grid control operators to use them as a dispatchable load, they are often rewarded with lower power prices.
Advocates of renewable energy grids often mention this as a powerful tool of demand-side management. The additional flexibility that dispatchable loads would give to grid operators means that less dispatchable power production needs to be available.
For some information on the Ontario implementation of this concept, you can see their dispatchable loads program.
What do you have to say?
This concludes our fifth issue of the Renewable Energy Review Blog Carnival. See our post about the launch of the carnival for a listing of all our publications in this series.
If you are interested in submitting a blog post or article to this carnival, see our submission page on the Blog Carnival website. This carnival is currently being published weekly, and we are always interested in seeing new material.
The intent of this blog carnival is an ongoing investigation of the progress and potential of renewable energy in our world. Our goal is to collect the best writing and news on the subject of renewable energy projects and policies. We have observed that humanity is innovating rapidly as the energy security of the future becomes a global priority.
Footnotes
Wind and Pumped-Hydro Power Storage: Determining Optimal Commitment Policies with Knowledge Gradient Non-Parametric Estimation. Christine Schoppe, Advisor: Professor Warren B. Powell. Accessed November 9th, 2010. [↩]
Gary Wilkinson, SaskPower: Powering a Sustainable Energy Future, Saskatchewan's Energy Future Public Consultation, Saskatchewan Legislature, available in the 

Standing Committee on Crown and Central Agencies Archives

[↩]